Using our Kiln
 Give your projects a professional finish by firing them in our kiln.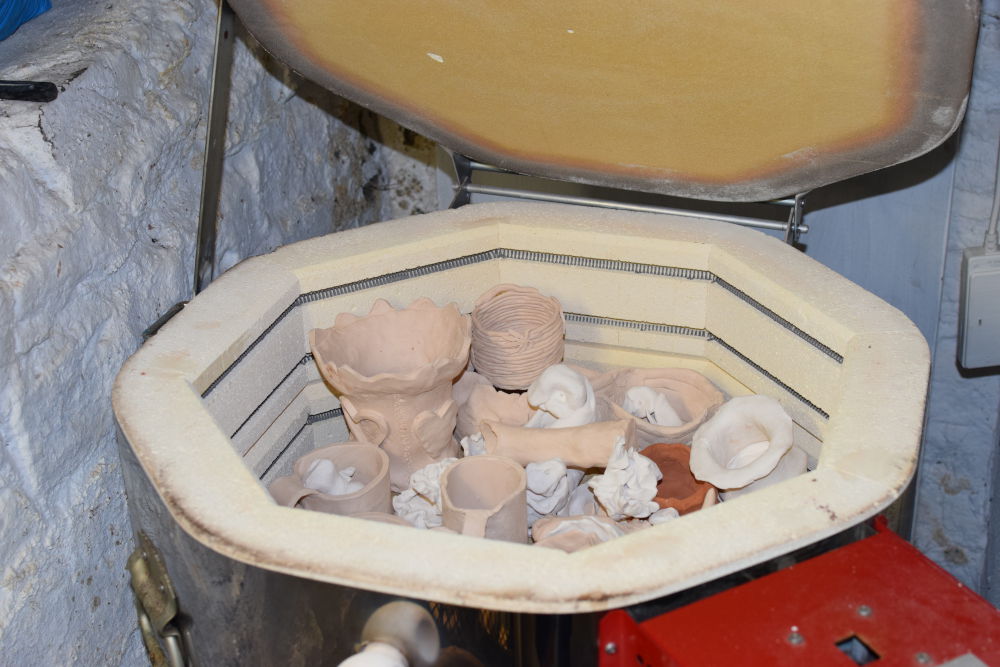 When renting the kiln the price is calculated by how many hours the firing programme will last. If you are unsure of how long you would need to fire your clay work for, don't worry! Alice can walk you through the best kiln programme for your particular needs.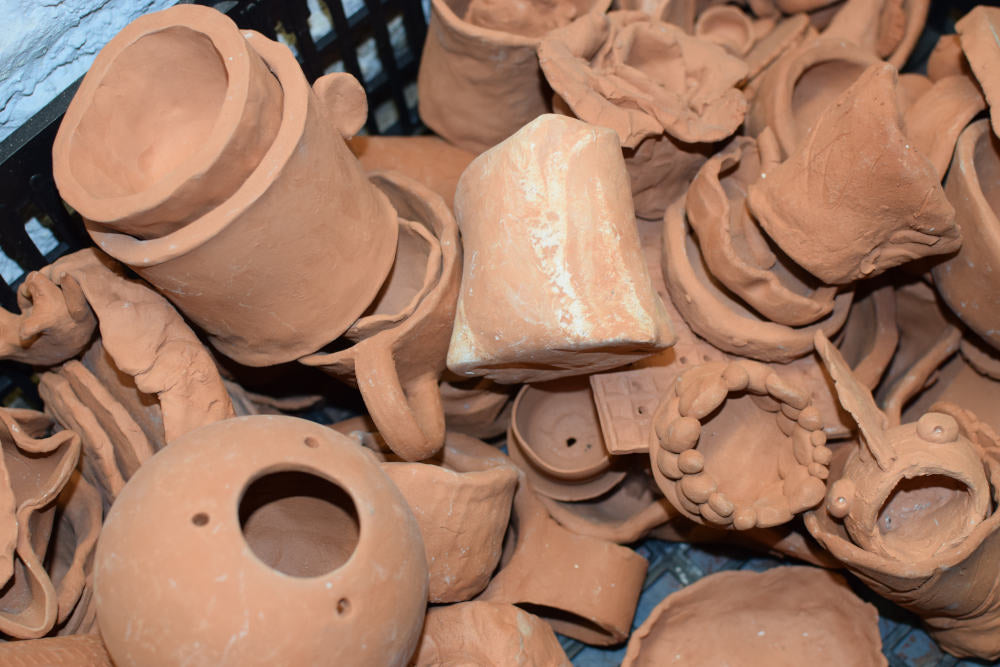 BASIC PROGRAMME PRICES for full kiln
Porcelain BISQUE up to 950° - £45.00


Earthenware GLAZE to 1060° - 45.00


Earthenware BISQUE to 1060° - £50.00


Stoneware GLAZE to 1260° - £52.50


Stoneware BISQUE to 1260° - £55.00


For other programmes we will quote you a price based on how long the kiln takes to complete.


Where possible we will also split kilns with other people doing a similar firing programme to give you a half kiln - in this instance you get your kiln half price.


We do not calculate prices for individual pieces, the smallest amount we will sell is a half kiln.


Last minute firings for a deadline incur a £15 - £20 fee, so that we can rearrange other jobs to facilitate you.
Give us your firing details
We will keep them on file, so we can contact you when your firing has been completed.
A bit more in depth firing information
You will need to be able to tell us the following information so that we can pick a firing programme and temperature for your work:
What type of clay you are using - Earthenware, Stoneware, Porcelain, Air Drying clay, Etc.
What the suggested firing temperature of your clay is - this info can normally be found on the packaging of the clay
Is this the first Bisque firing or the second Glaze firing
How long your items have been drying for
Any deadlines you may have for firing your work (not a preferred date to get it back but time restrictions)
This kiln measures 43cm diameter and a height of 47cm. It is a 75Litre kiln.
We would recommend drawing a circle on a piece of paper that is the size described and then seeing how many of your pieces of work you can fit into the circle. We can create a few layers of the circles in each kiln by stacking them on top of posts.
It's very difficult for us to answer the question of how many pieces of your work will fit into a kiln because pieces of pottery could be any variation in size or height!
But you are more than welcome to pop on down to the studio to see the kiln in real life any time, to get an idea of how big it is.
When you arrive with your stuff at the studio you are joined to the back of the firing list. The amount of time it takes to get your work back will depend on how far down the que you are and so it can fluctuate.
We will always try to get your work fired for you as fast as we possibly can. Generally it will take between 1 and 2 weeks at non-peak times. Currently you can expect a wait time of 2 - 3 weeks.
Please be aware that your pottery may also need more time to dry if you bring it to the studio when it is not bone dry, and that this extra drying time may effect how quickly we can fire your pottery for you.
We rent the kiln by the full kiln, and where possible by the half kiln.       
If you are using the same firing programme as we use for the studio classes we will often split kilns with you to make it cheaper. In this case you will be charged for a half kiln. If you are using a firing programme that is similar to someone else who is waiting to fire we will try to arrange for you to buddy up and share a kiln, again making it cheaper for both of you. 
The studio fires for its classes to earthenware temperature using a bisque programme. Top temp 1060°c. Our programme is to go up 80°c and hour until we reach 300°c - up from there 100°c an hour until we reach 600°c - then up 150°c until we reach a top temperature of 1060°c 
If you need help working out your firing programme don't worry! Alice can talk it though with you and work out the best programme for the clay you are using. You will need to know what firing range the clay you are using has, and what type of clay you are using - earthenware - stoneware - porcelain - etc. This information can normally be found on the website you bought it from or on the packaging. If you bought the clay directly from us we will know it's firing range for you. 😬
You will need to bring your work to the studio, unpack it from the packaging and put it onto a shelf so that we can see how much there is to fire and quote you a price. You will also need to take your packaging and boxes away with you as the studio is pretty small and doesn't have the space to store it for you. 
Your work will need to arrive completely dry footed. This means that the bottom of all of your items will need to have been wiped with a sponge to remove all of the glaze on the base. It is also fine to use wax resist. We WILL NOT double check the bases of your work before it is loaded it into the kiln - as it is too time consuming for us to do this for everyone. If you have not wiped something correctly and it damages the kiln shelf you will be charged for a replacement shelf. The cost of a new shelf is £45.00 per kiln shelf. If you have items that need to stand on stilts, as you would like them to be glazed all over, the studio has some stilts in a variety of different sizes available for you to use, but if you have many items you may need to arrange to bring along extra stilts. You will not be able to stilt items to Stoneware temperature as they can slump over in the kiln.
It is important to talk to us as soon as possible if you have a strict schedule or deadline for your work being fired. If you need something to go through the kiln rapidly, we offer a speedy kiln service if you agree to pay and extra £10 - £15 pounds (,depending on the job), on top of your firing fee. In this case you will need to arrange this with Alice as soon as she can. The studio has weekly deadlines to reach for returning work from workshops and so speedy kilns will not always be possible at busy times. 
The studio will not put any organic matter or paper through the kiln. If you have used newspaper while building your pieces or have used leaves etc to make imprints into your clay work - all of this will need to be removed before your work can go into the kiln. Although paper and organic matter fire away they damage the kilns thermocouples in the process - and also create a lot of smoke and ash.
Once your work goes into the kiln the studio accepts no responsibility for the results. It is a standard in Ceramics that breakages can occur during firing or loading and glazes may not always come out as expected. It is your responsibility to test your glazes and build your pottery so that it will survive the firing process. 
Try to avoid bubbles while building your pieces, don't build elements of your work too thin, make sure your base is not too thick, dry your pieces slowly.